PC Server 500 (or: My server's better than your server!)
---
PC Server 500 "Greyghost" was actively serving pages on the world wide web. It isn't doing so any more, but the web site still exists so...Have a look! Hopefully someday it will do so again.

I have two of these awesome systems. There is no other word you can use to describe them--the size, the weight, the performance--all these factors make this one awesome system.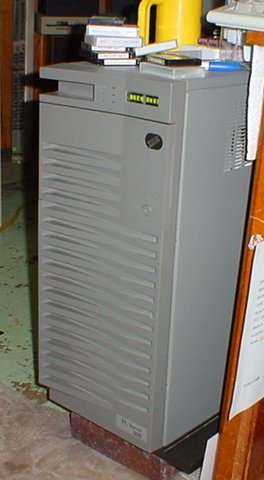 This the highest end pure x86 based Microchannel system one can have.

Though I am the proud owner of two of these fine systems, I do not have enough space to keep them both out and operating at the same time. The unit that I do have up and operating is named Greyghost for its color and remarkably quiet operation considering how many fans it has and what kind of system it is.

Greyghost is configured as follows:

Intel Pentium 90 CPU
256MB ECC RAM
2.88MB Floppy Drive
DDS-2 tape streamer internal CD-ROM drive
Pioneer DRM-624X 6 disc external SCSI CD-changer
12X RAID hot swap drives in two logical drives/arrays.

The option cards in Greyghost are:
3COM 3C529-TP Ethernet NIC
IBM/Cirrus Logic Server SVGA card
2X IBM Fast Wide Streaming RAID (FWSR) "Cheetah" RAID Adapters
IBM MCA SCSI with 2MB cache--"Spock" adapter
Adaptec AHA-1640 MCA SCSI adapter

You may wonder about the number of SCSI cards installed in this system. While this is an unusual configuration, it is necessary for the following reasons:

1. There is not enough SCSI "address space" on the IBM "Spock" adapter to handle the DDS-2 tape streamer, internal CD-ROM drive AND the external Pioneer changer. While the Pioneer changer's drives appear as logical units under one physical unit ID, I don't think the NT driver handles this correctly and in any case either the internal CD or DDS-2 streamer gets pushed out of the picture. I think NT's drivers are to blame for this as the setup does show correctly in systems programs.

2. Of the two IBM FWSR adapters installed, one is being used at full capacity managing two arrays on each of its two SCSI channels. The other adapter is installed but presently unused for future expansion purposes into the third RAID channel that the system supports. The DDS streamer and internal CD-ROM are not attached via the pass-through cable to the FWSR adapter because this causes problems with Windows NT setup and I wanted to avoid these problems easily.
---
Go Back>