Model 8565-121

---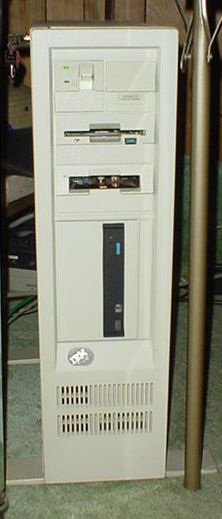 Again, I must give lots of thanks to Tim O'Connor for this unit. It was made available by Don Hickey in Lansing, Illinois and I accepted the offer without realizing just how far from Farmer City that really is. Tim came to the rescue and took me to get the machine, which was and certainly still is very, very much appreciated.

This machine is rather amazing--it came with lots of stuff related to Microchannel and most of it is probably a collector's dream come true.

I have this unit configured as follows:

Cyrix 486SRx2-50 clip-over CPU upgrade
8MB RAM on one Kingston KTM-609/II adapter and 8MB planar RAM
Single 1.44 floppy and internal tape backup unit
CD-ROM drive from an IBM Thinkpad computer (That's the black drive in the picture and it was installed by the machine's previous owner. While not stock, it certainly is an elegant installation.)

Update 02/06/03--It seems that Windows 95 gets a little bit uppity when used in conjunction with the Cyrix upgrade CPU control software. My guess is that the problem is a result of my use of 85ns SIMMs on the memory upgrade card and 80ns SIMMs on the planar. I will be working on fixing this problem soon and will report the results here.

Windows 95 is the operating system of choice for this machine. However, I did make a complete image of the stuff on the hard disk when I got it just in case I wanted to put it back on there. Though this is a 386SX family machine Windows 95 runs very well on the upgraded CPU and this machine is just one of many I have cracking away on Distributed.net's RC5 project.

---
Back>